One of the boats in the running for boat de jour is the venerable Ranger 30. Designed by C. Raymond Hunt, this boat has the classic good looks of the 70's era, at least to our eye. One of the things we like about the Ranger 30 is of course the reasonable prices that they can be had for. I currently have my eye on one that, from the photos at least, seams to be in great shape and is listed for $15,000. She was built in 1978, either the first or second year of production, I believe.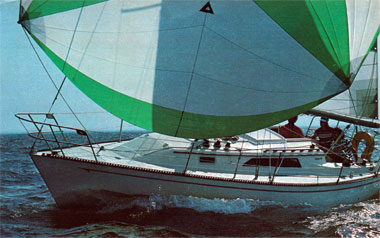 Dimensions:
L.0 A 29'11"
L.W.L. 25'5″
Beam 10'9″
Draft 5'6″
Displ. 9000 lb.
Part of our criteria for our next boat is that she is large enough to spend, perhaps a week or maybe two on a sailing vacation. We have been advised that if you start going above 30′ in a sailboat then you start to need to worry about things like crew. The exact example given was for cranking miles of sheeting for the large genoas that are the norm on vessels of this era. We sail about half the time just the two of us, so that is why we looking at this particular model of Ranger.
Also the cabin is done with loads of beautiful teak, which we love. We like the warmth and coziness all this joinery provides and the layout seams very functional, never having actually been in one that is. The design provides sleeping accommodations for five with two in the fore peak, two in the saloon and one in a rear quarter berth. Head room is purported to be 6′.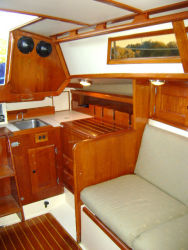 As can be seen in the photo she has an L-shaped galley for functionality, providing a large single sink, icebox and two-burner stove top. Some I've seen listed also have an oven below the stove top. The head is positioned in between the saloon and the v-berth with the head itself and the sink on the port side and wet locker and storage on the starboard.
The Ranger 30 was originally designed to be competitive in the IOR racing rules of the time. We don't race competitively, but I think we all know what happens when two sailboats meet going the same direction. The race is on! And who doesn't like to speed along at a nice clip on a sunny day. She is ballasted with a 4300lb. fin shaped keel, this combined with her 5 ½ feet of displacement should make for good up-wind pointability. And with her keel/displacement ratio at about 47% we are hoping she will be a very stable ride. One area I keep flipping on is the atomic 4 engine that seems to be on all the boats of this era. I know they have and excellent work history and parts are available through http://www.moyermarine.com/ , but having a re-powered Ranger with a newer diesel seems attractive as well.
Decisions, decisions. I don't know how we are ever going to decide which sailboat to buy. If you have any comments on the Ranger 30 I'd love to see them.
---